SUMMER WIND CHIMES BY PAT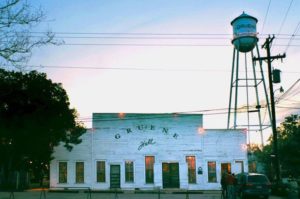 My husband, Steve, and I went to Gruene, Texas, last summer.  They have a restaurant there called the Gristmill that has the best ribs anywhere in the State of Texas.  It sits right on the bank of the Guadalupe River, it's relaxing, and we keep going back again and again.  The town of Gruene is an old historic town and we like to walk around looking in the old stores.  The one place we stop and just sit and listen is where they sell wind chimes.  The soft wind blowing through the trees makes the pipes hit together gently and the tones are tuned to harmonize beautifully.  There's nothing so relaxing.
We told my son and his family about it and they went to visit on their vacation.  Pat, Chrissy and the kids were fascinated!  In fact, Pat came home and started making his own wind chimes.  And on Mother's Day,  I got one of his first ones.  (I think Chrissy got the first one and that's the way it should be, right?)  It is amazing and sounds so pretty in my front yard.  There is a picture of it below.  Everyone who sees it wants one.
If you are interested in purchasing a hand made, one-of-a-kind wind chime, please email your request below.  Include your name and phone number in the email.  Thanks!